In March of 2020 I took delivery of a Primary Arms 1-6 x 24 "Second focal plane GEN III ACSS" – riflescope with a BDC reticle.
I'm not associated with primary Arms in anyway, and paid full retail price for the scope. This is a low priced optic. It has a reputation of being reliable and continues to grow in popularity. At time of purchase Primary Arms was not aware of the severe testing this scope would be subjected to.
What you get in the box with the scope on arrival
1-6x24mm Gen. III Rifle scope
Warranty information
Owner's documentation manual for zeroing for your caliber
Lens covers
The manufacturer
Primary Arms is a large retailer of firearms and accesories. They have become known for their low priced red dot sights, but have also ventured into the riflescope market.
Primary Arms sources their house brand optics straight from factories in China and in Japan. This way they can offer their products at a lower price point while still controlling the quality.
Factory specifications
Length—10 inches
Eye piece diameter 45mm –big enough for all rifles including bolt types
Tube Diameter—30mm
Weight—16.9 ounces –pretty low weight for the price
Aluminum 6063
Objective Lens Diameter—24mm
1-6x total magnification range
Eye Relief—3.3 to 3.5 inches –excellent eye relief and enough for normal movement / extremely practical. For the price this is well done.
Hard-coat anodized matte black
Reticle is glass etched
Adjustment click value is ½ MOA
Second Focal Plane ACSS reticle designed for 5.56/5.45/.308
The Chevron focal point provides markedly small aiming point –I like it
Ranging accurate at highest magnification setting
FOV at 100 yards—1x=110 feet/6x-19.30 -slightly restricted but not bad, perfectly acceptable.
Illuminated reticle 11 brightness settings using CR2032 battery –reticle can disappear in bright direct sunlight; the illumination is perfect in sun up and sundown scenarios.
Multi-coated lens, less than 0.1% loss of total available light
Accurate color conformity; you see the precise objective image as it looks in reality in true color format.
MSRP is $290.00 USD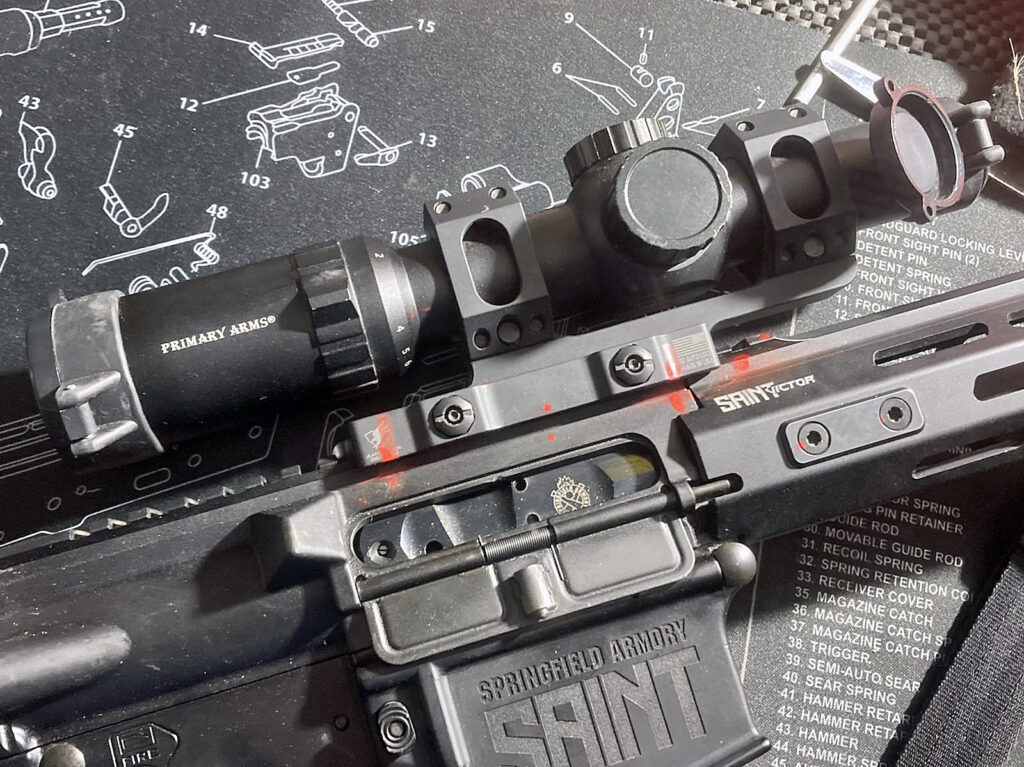 Observations
I inspected the scope at length. The optic was relatively clear, crisp and acceptable.
There's some very slight distortion in this scope around the edges throughout the power range, however only slightly noticeable to the trained eye.
This is a second focal plane scope. I prefer second focal plane for DMR / LPVO scopes for Law Enforcement sniper, and military / security contract defensive marksman type work. As you increase power up and down the reticle stays the same size. It has good application across the spectrum of normal engagement distances to be anticipated, and even extended distances beyond.
The BDC reticle design is well executed and extremely effective. You zero the weapon according to the cartridge and rifle specifications as per the scope manual. I found the hold overs in this reticle extremely accurate. I was shooting a 7.62 x 51 out to 600 yards regularly with routine first round hits. Even the 800 yard holds corresponded as advertised. The reticle design utilizes bullet drop compensation correlated with range estimation, wind, and leads in one simple to use system. The manufacturers claim: "The ACSS reticle increases first hit ratio and decreases time of engagement dramatically." seems to be true.
Testing
The scope was submerged in water and placed in the chilling section (42f-35f) of a refrigerator for 11 days. At the conclusion I inspected for leakage, and or damage. It withstood the submergence refrigerator test intact, maintaining water tightness.
The scope was placed inside a freezer on a shelf, dry without obstruction or shock. It was in the freezer for a period of 22 days, without movement or tampering. At the end of the freezer testing the scope remained intact and clear. No damage was noted or discovered. The glass was as clear as originally delivered and intact at this point. No fogging or damages noted
Buried in sand in the open desert of Arizona for 14 days, temperatures were relatively mild. It was never over 100f and not colder than 36f. It was recovered from the desert at the conclusion it remained clear, and unbleached. The scope was intact, and just as left when buried. It was illuminating, functioning properly to factory specifications.
The optic was then wrapped in a towel to prevent damage to the body of the scope or the finish. Dropped from a height of 6 feet on grass 37 times, this was repeated on gravel. It remained intact, clear and the illumination functioned.
The optic was then mounted on my Springfield "Saint Victor" 7.62 semi-auto rifle. The optic was zeroed as per manual instructions for this cartridge. The rifle and scope was drop tested 16 times on grass and a height of 5 feet. The rifle and scope were then checked for zero again to evaluate if the impact had affected the zero. The rifle and scope passed with no observed or appreciable shift in zero.
The Primary Arms optic replaced another scope that failed, while attending the "Gunsite" "battle rifle course". This is a five day course, the student fires up to 1500 rounds of 7.62 / 308 in this period. You will engage targets from 0-800 yards, on designated known distance.
The scope and rifle combo functioned perfectly during the entire duration of the remaining three and half days of the course. During this course I discharged 1268 rounds of 7.62 with this rifle scope combo; the scope maintained zero, clarity, and overall structural integrity.
A short time later I attended another rifle class. During that course I discharged another 470 rounds; the scope continues to work perfectly, with no noted damage or defects.
Conclusions
I think there are lower priced solid optics that work well for a majority of shooters. There are specific times and folks that need the absolute best scope available and only the best scope will do. Those circumstances and missions for most are non-existent. Spending thousands on a scope is not necessary for everyone, frankly for most it's a total waste of money.
This scope is suited well for short to medium range shooting with semi-auto type rifles. This optic far exceeded all my expectations, I was extremely impressed. The reticle is well done and I like it very much. The chevron allows for a distinct aiming point and fast to mount, concentrate on and press the shot out. The quality of the optic, reticle design, and durability of this scope I would expect to pay three times as much. This is a great value, and well worth the investment. This optic has been Silver-tier rated by the National Tactical Officers association.
The guarantee on this product is excellent. The company will replace the scope if damaged. The optic is water proof, made from aircraft grade aluminum, the reticle is etched on the glass, the body is a heat treated one piece tube, it is nitrogen purged to prevent fogging and water leakage. The illumination is a little lackluster for day use. At sunset and sun up it's good to go.
A problem i noted was the adjustment knob on the non-dominant eye side. This makes it difficult, to shoot with both eyes open at close ranges (CQB distances), it occludes your field of view slightly.
Things I liked about the scope: the price, "second focal plane", the BDC reticle, and the overall ruggedness.
I recommend this be mounted on 7.62 / 308 or less and can reliably use at ranges up to 600 yards. This is an excellent scope for three gun matches and competitions. In a pinch it could be used operationally.
I would be tempted to use this optic on my duty rifle if I controlled the rifle at all times. I wouldn't recommend this scope generally for professionals, and would avoid employing it in combat zones or high threat environments. There are better scopes out there, but you will pay three to four times as much.
It's a perfect optic for hunting of all types, competition shooting, general self-defense, and or just plinking. I'd highly recommend it for training, becoming familiar with how to use holds and the use of LPVOs. This scope is suitable for 98% of shooters, serving them in good stead. I'm extremely impressed overall, this product is an exceptional value.
Take care and be safe, if you can't be safe, be deadly!