In the previous article we covered features of the traditional hunting shotgun and proposed some changes to increase the handiness of the weapon system and maybe make it more multifunctional.
In this article we're going to illustrate a build of a shotgun that incorporates some of those features. In the upcoming article we're going to do some testing to see how the end result performs.
Please keep in mind this is not a scientific research article by a "shotgun expert", but more of a game of trial and error by someone who just can't leave anything unmodified.
The Build
The goal of this build was a shotgun that could be used in all kinds of small game hunting. A secondary goal was for the gun to be able to be used in big game hunting using slugs. The gun should also be fully compatible with lead-free ammo for the upcoming EU-wide lead ban.
We wanted the gun to be as lightweight as possible, but still be durable for high round count range practice. The end result should be as field repairable as possible and spare parts should be readily available in Finland.
The quality of manufacturing was also a thing we were looking for. Previously the feeling of going from driving a high end sedan to being beat up in a piece of farm equipment has been unavoidable when transitioning from a rifle to a shotgun hunt.
We looked for a host gun that comes with synthetic stocks or has them available as aftermarket accessories. This and the slug requirement pretty much ruled out the double barreled actions. The choice narrowed between a semi-auto and a pump action. Because there are game animal specific magazine capacity restrictions and some additional paperwork required for semi-automatic hunting weapons here in Finland, we decided to go with a pump action. This was also due to familiarity, since the previous iterations of this gun have all but one been pump actions for much of the same reasons.
The problem with this choice was that there were few to none quality pump action guns to build on. Most of the pump action guns in the Finnish market were "Walmart spec" guns or Turkish copies of them. This was until 2021 Benelli released their competition pump gun they called the Nova Speed. This was developed in cooperation with Team Benelli practical shotgun shooters and world champions Jaakko Viitala and Kim Leppänen. The resulting gun is based on the semi-automatic M2-model, which makes it a really high quality firearm. The race gun pedigree means the gun would have to be modified for our purposes, but it also means that the gun could handle high round counts and have spare parts available, since the competition shooters shoot a lot more than our project gun would ever be shot. The decision to move forward with this platform was finalized (Yes, the action is that smooth.) when we had a chance to handle the pre-production version at the Finnish importer of Benelli, so we ordered a Benelli Nova Speed with a 24″ (609,6 mm) barrel as a starting point for the build.
Modifications
On the previous shotguns we had tried a number of barrel lengths. On a Winchester 1300 we went from 22″ (558,8 mm) to 18″ (457,2 mm) to 12.5″. With the 12.5″ (317,5 mm) being too short for this application, we went with 16″ (406,4 mm) on a later Remington 870 build. The 16″ seemed to do everything we wanted with flying colors, so naturally we were thinking, could a 14″ (355,6 mm) barrel do the same? That's how we ended up trying a 14″ barrel on this Benelli.
Teräsjänne Oy did the barrel work. They cut the barrel to 14″ and re-threaded it for the choke tubes. There was additional work involved with the chokes, since the barrel is thinner in the part it was cut than the part at the end of the barrel in the factory configuration. This meant we had to change the type of choke to the older "Mobilchoke" tubes, and the threads needed to be reinforced with a metal collar that was installed on the outside of the barrel. No big deal. This turned out great.
The gun comes from the factory with a long magazine extension, since it's designed as a competition gun. The extension needed to go for this project. Luckily we found a magazine cap with a QD sling attachment from Innovatac to replace the extension tube. What was great about the magazine cap is that it solved the front sling attachment issue at the same time. There is still the option of adding a short magazine extension if there would be a need for maximizing the magazine capacity. There are also some longer choke tubes available that would enable even longer magazine tubes to be installed, since this setup is used primarily for hunting, the 4 + 1 is plenty.
We used a kit from Innovatac to shorten the buttstock to a more manageable length of pull and installed a SHU recoil pad. The rear sling attachment came as a QD socket kit from Benelli for their Argo-rifle. Excellent tips from Jaakko Viitala made short work of the buttstock modifications.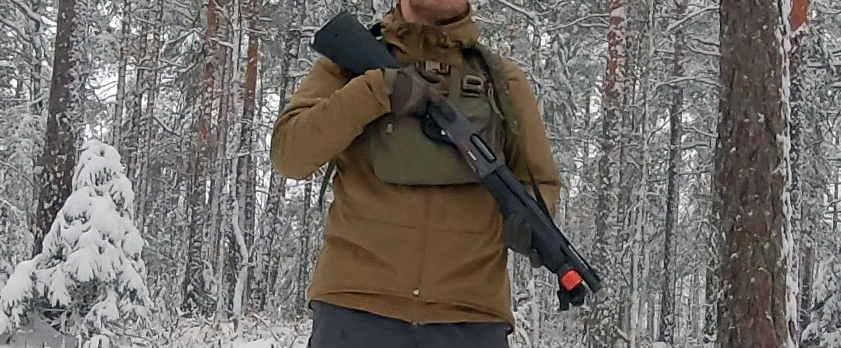 Accessories
The gun is currently wearing the 2-point sling by Varusteleka. This is one of the few slings that's made from a webbing that slides easily on top of clothing. For this application that is a desirable feature, since you want the sling to slide freely to allow for fast presentation of the gun from the high ready position when slinged up. Being a "VTAC" -style sling it allows for a longer range of adjustment than the "VCAS" -style slings.
Another go-to accessory on the gun is the Hill People Gear -ammo cuff on the stock. We rarely run it full of ammo, but use it for just one or two rounds of a different ammo type than what's in the gun, or store the round removed from the chamber for transporting the gun. The ammo cuff also has a transparent "dope card" pocket for your trajectory / pattern information. The cuff is made out of hypalon (the stuff they make rubber boats out of), which has a nice feeling to it. For this project the cuff was modified slightly to allow the rear sling attachment to be unobstructed.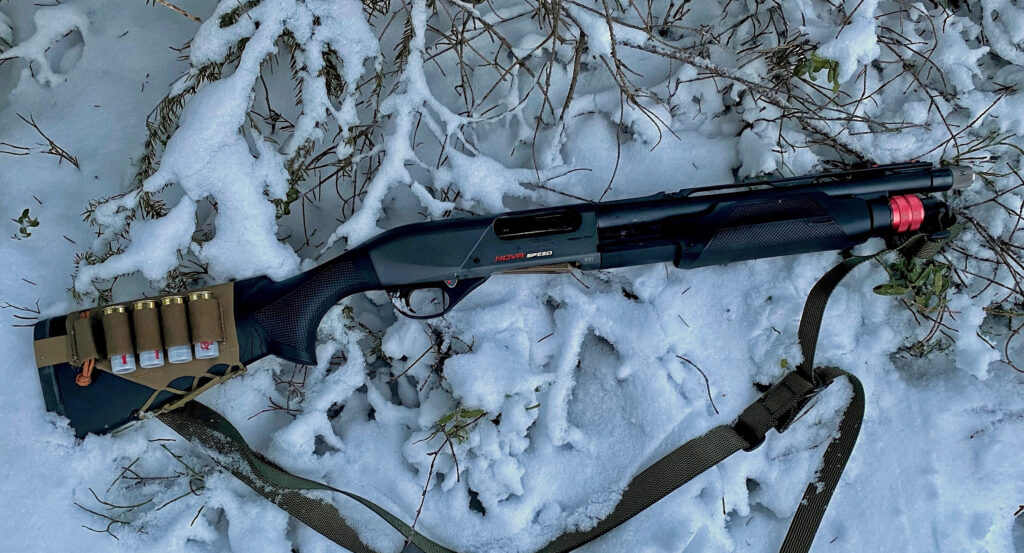 What next?
We're really happy with how the gun turned out. There will probably not be any other major modifications to it for a while. The gun will probably get Ceracoted to a more earth tone color. We've had good experiences with Cerakote in the past iterations of this concept.
Another thing we would love to try is a shotgun specific red dot sight, or more specifically the Aimpoint S1 (Aimpoint, can you hear us?), since we run Aimpoint RDS (Red Dot Sight) on almost exclusively on everything with great success. There is a disadvantage with the shorter sight radius on this gun for shooting slugs. The RDS would take the slug shooting to a new level and it would be interesting to see how it would effect the clay- and wingshooting.
Speaking of which, it's going to take a lot of training to learn to shoot this gun and that's exactly what's going to have to happen in the coming summer before the new hunting season. We'd love to take training classes from different shooting schools with the gun, since training is always beneficial.
The learning curve is something that could be an interesting topic for another article, since it might well be that it is "impossible to hit anything with" a 14″ barreled gun. That's a claim you hear a lot about the 16″-21″ guns as well. It's a self fulfilling prophesy until you go to the range and work until the clays turn into dust. It will not be as easy as it is with a 28″ barreled clay gun, but few good things in life are easy to achieve.
Final words
Everything in this article was paid for with our own money. We worked in co-operation with some of the companies and got special pricing on some of the products. There was no obligation for us to write favorably about any of the products. We represent Hill People Gear in Finland.
Feel free to check out these companies if you're building a similar gun or something else. They are all good people and will help you out:
On the next part of this article series we'll show you some of the results of the testing we did with the project gun. If you're a manufacturer or an importer of an ammo brand and would like to see your ammo tested in this gun, please don't hesitate to contact us:)